SingaporeBrides.com is the quintessential wedding guide for local brides. Brides-to-be planning their wedding can find everything they need to prepare for the biggest day of their lives ai??i?? from a comprehensive directory listing of wedding related vendors to wedding planning tools for brides who are always on the go; meet other brides and seek advice on our forum or learn more about wedding planning from our articles and find inspiration for your wedding from our fashion spread ai??i?? all of that at SingaporeBrides.com, a one-stop-service website for brides.
To commemorate our 13th year as the #1 online wedding portal, we've launched our very first bi-annual digital magazine, Weddings – a compilation of the top and most popular features at SingaporeBrides.com – as a special treat for brides who still love to flip through a magazine at a swipe of a finger.
SingaporeBrides started out with a humble directory listing and a forum where brides-to-be shared information, experience, tips and recommendations with one another. Today, 12 years later, the site has become the first stop every bride-to-be will make when planning a wedding.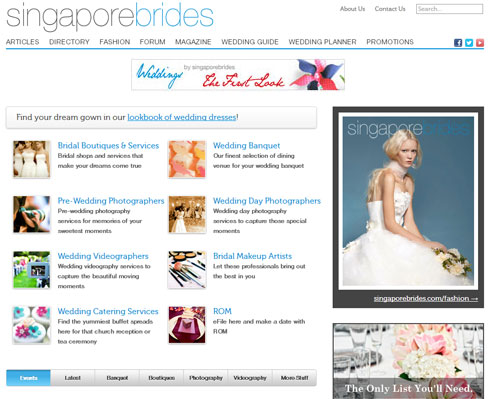 What's at SingaporeBrides:
Articles
Directory
Fashion
Forum
Wedding Guide
Wedding Tools
Lookbook
Digital Magazine, Weddings
Promotions
Visit us now!